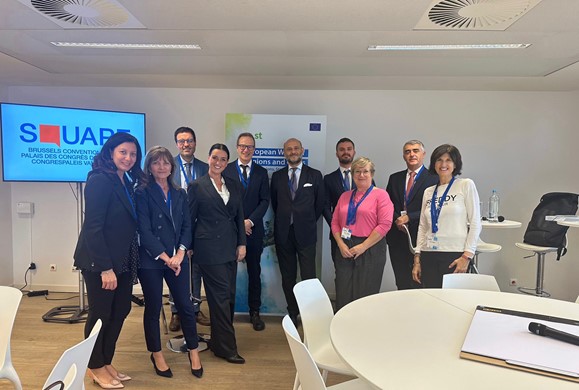 ITALIAE: a model to be spread throughout Europe
19 October 2023
Also this year the EURegionsWeek was an important opportunity to talk with partners, experts and the Euopean Commission about the importance of a sound local and territorial governance to guarantee a good European governance.
Fondazione Etica and Centro REP took parte to the workshop "Tackling fragmentation of local government towards shared sustainable community solutions" as partners of ITALIAE Project, aimed to facilitate the associationism among Municipalities in order to improve their performance and services and act against the administrative fragmentation.
It was very interesting to listen to Florian Hauser, from European Commission - DG Reform, who first of all affirmed that the fragmentation issue is not only an Italian matter, but it is present also in other EU countries, who face it through different models of Unions of Municipalities: some of them due to law requirements, other as result of a voluntary path. Always respecting the expectations and the different cultural identities embodied by the territories.
From this perspective the good practices implemented by ITALIAE has been appreciated and considered a model to be spread throughout Europe. It is actually deemed crucial to invest in activities of communication and discussion with the administrators and people involved, in order to explain at the best and transmit the usefulness of an associationism process and the concurrent respect of one's own identity. And Unione Romagna Faentina (Emilia-Romagna) and Federazione Camposampierese (Veneto) attested the role of ITALIAE in the enriching and efficient path undergone by the Municipalities of their respective territory.
Giovanni Vetritto, General Manager of Regional Affairs Department and in charge of ITALIAE Project: "It is a great satisfaction to realize that our best practices are as good as the best European cases and that we are doing well, with a good level of quality acknowledged by the European Commission".