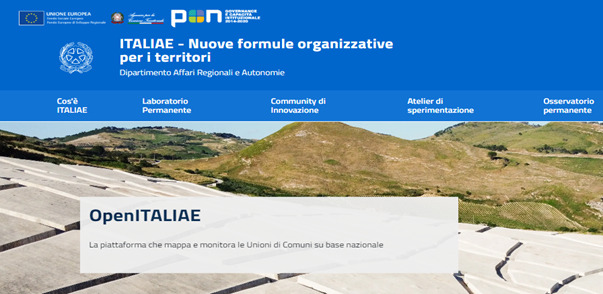 Project Italiae - Webinar June, 23rd
20 June 2023
The first phase of the test workshop "Transparency, legality and efficiency" , coordinated by Paola Caporossi, within Project ITALIAE is coming to an end. Such a project is promoted by the Department of Regional Affairs and Autonomy (DARA) and co-financed within the Governance National Operation Plan 2014-2020.
The main aim of "Italiae" is facing the administrative fragmentation, promoting processes of local government implementation, trying in particular to bring together little minucipalities into unions.
More in detail, the focus of the workshop is offering to Municipalities, to the Unions of Municipalities and to Regions a specific support for strenghtening their transparency and corruption prevention, in addition to their efficiency. This could be possible by sharing with citizens good practices, already existing among the Unions themselves, and adopting stakeholders' point of view, through civic engagement paths.
The workshop was performed by a workgroup that brought together the expertise of officials and directors of Unions, Regions and other PAs, and focused on a secondary objective: that is to make easier the mandatory publication of data and information in the section "Transparent Administration" on the PA websites, in order to improve the usability by citizens, investors and central administrations.
It means simplifying, facilitating and improving the implementation, the update, the visualization and the usability of the website section dedicated to "Transparent Administration", as per Law 190/2012 and Legislative Decree 33/2013, as then updated.
The result of this path is a digital open source application for Unions, Municipalities, Regions, that inserts in the mentioned website section a specific area for presenting a little at a time four categories of information, relevant to financial situation, staff, services and public real estate property reporting.
This app will be shown during the webinar, scheduled by DARA for next 23rd June, that will see the greetings of the National Anticorruption Authority, Giuseppe Busia, and the keynote speech of Nicola De Michelis, Director of European Commission - DG Regio.
For registration: italiae.dara@governo.it